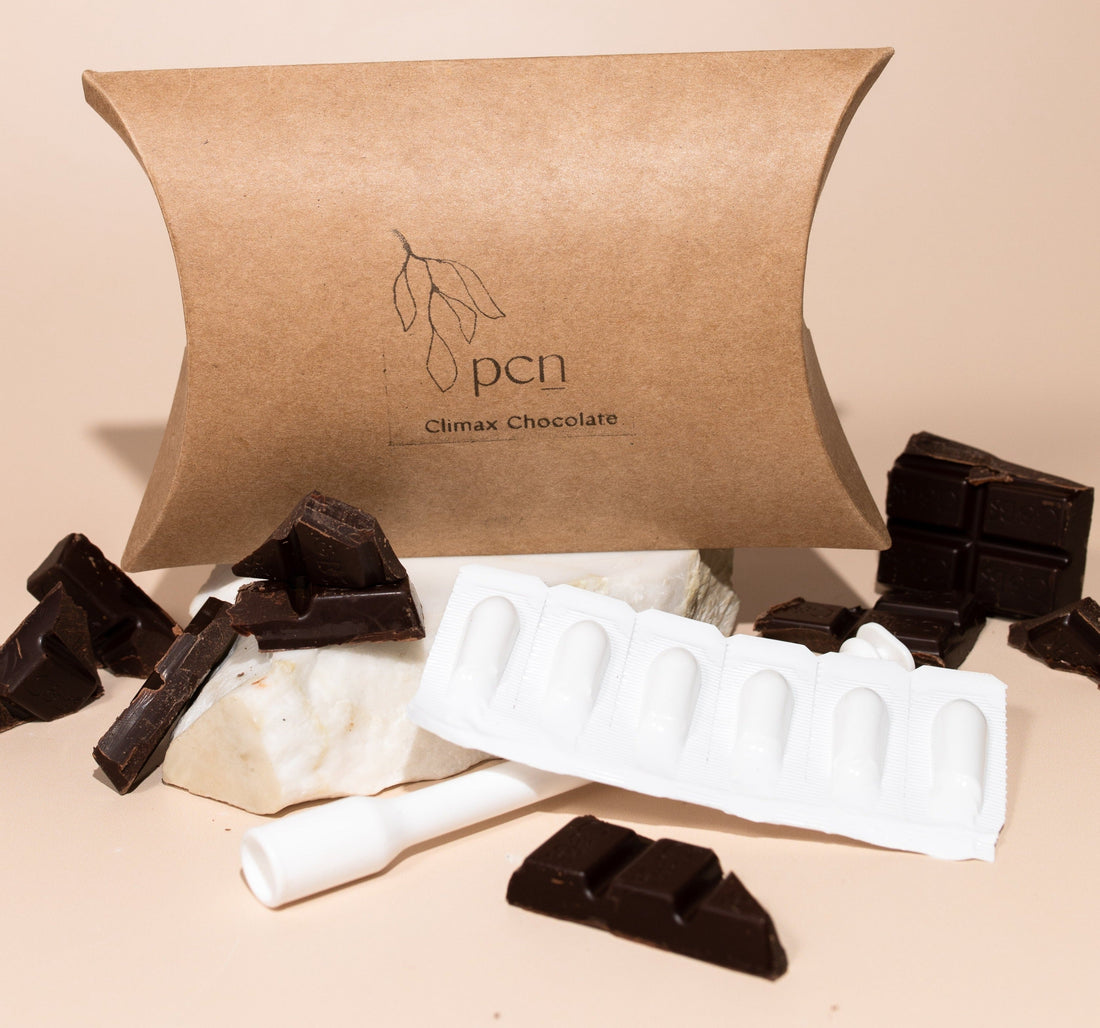 Cherishing Chocolate - YONI Flavored Suppository Melt
Description
Main Benefits
Ingredients
How To Use
Precautions
Helpful Tips
*This product is edible and safe for human consumption*
PCN has added another delightfully scented, moisturizing hygiene collection to our feminine line. Our yoni melts can be inserted into the private area for a moisturizing feel with a fruitful aroma. Once inserted, the suppository melts away in under 5 minutes. After melting away, the private area is soft and lubricated with a wonderful smell! Containing coconut oil, vitamin e, mango butter, and more...... this item is sure to be beneficial in many ways.
Other flavor variations in this yoni suppository melt collection: mango, peaches, pineapple, strawberry apple, blueberry, banana, chocolate, dragon fruit, honey, kiwi, watermelon, vanilla, and more!
- Increases moistureIncrease blood flow/circulation.
- Soothes yoni walls for maximum comfortability during intimate times.
- pH balanced to ensure no infections, check our pH balance sheet on the homepage.
- Improve symptoms of vaginal atrophy
- No fillersAntibacterial, antifungal, and antiviral components from essential oils
Mango (Mangifera Indica) Butter, Avocado (Persea Americana) Oil, Oils of Blueberry Natural Flavor, Vitamin E, Coconut (Cocos nucifera) Oil, Extra Virgin Olive (Olea europaea) Oil, Safflower (Carthamus tinctorius) Oil
Preparations Steps:
1. Wash your vaginal area and hands with mild soap and warm water, and dry well with a clean towel.
2. Remove any wrapping from the suppository.
3. Place the suppository onto the end of the applicator. If you're using a pre-filled suppository applicator, skip this step. A pre-filled applicator already contains the medication.
4. Hold the applicator by the end that does not contain the suppository.
Insertion w/o an applicator:
1. Wash hands with soap and lukewarm water for 30 seconds.
2. Completely dry hands with a napkin. If you are inserting the tablet without an applicator, lie on your back with knees towards your chest, and place the suppository on the tip of your finger. Gently insert the suppository high into the vagina as far as it will comfortably go.
3. Place panty liner, or pad to capture any leakage that may occur.  
How to Use Vaginal Suppositories with an applicator:
1. Get into position. You can either lie on your back with your knees bent, or you can stand with your knees bent and your feet a few inches apart. If you're a caregiver, the first position may be best for your patient or loved one.
2. Gently insert the applicator into the vagina as far as it will comfortably go.
3. Press the applicator's plunger as far as it goes. This will push the suppository far back into your vagina.
4. Remove the applicator from your vagina.
Precautions:
There are a few cautions that should be considered before using this product:
1. This is an oil-based lubricant that must not be used with IUD concentrative. Using oil lubricants will decrease the effectiveness of the concentration. 
2. Oil-based lubricants will cause wear/tear to latex condoms results in tearing. Oil can damage latex condoms and make them break. You can generally use oil-based lubricants with non-latex condoms but we have not tested its efficiency, so still use condoms.
3. This product can not be used to prevent any medical disease, illness, symptoms. Consult with your physician before using this product. 
1. Vaginal suppositories can leak, so they're more convenient to use at bedtime. You can wear a sanitary napkin to help protect your bed linens or clothing.
2. It may help to dip the suppository in water quickly before using it. This can make it easier to insert.
3. To keep your suppositories from melting before use, store them in a cool place. Keep them in the refrigerator if the medication label says to do so.
4. Use the medication for as long as directed by your doctor or by the product instructions.You can use a vaginal suppository during your period.
WHY PC NOURISHMENT