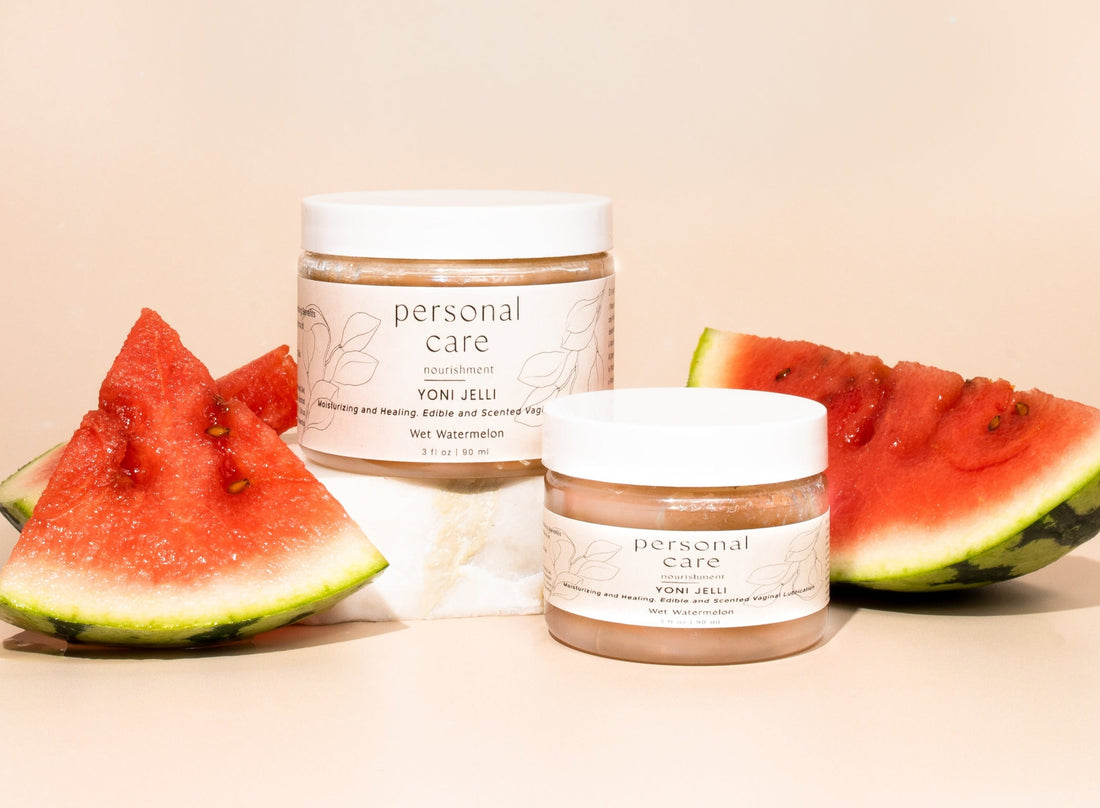 Waking Watermelon YONI Jelli
Description
Main Benefits
Ingredient Benefits
Ingredients
How to Use
Precautions
Interested in a moisturizing gel/jelli for your vaginal area? Look no further! PCN has introduced another collection to our yoni collection. YONI Jelli is a new collection for women (and anyone else) looking for a soothing, gel-like product that can be safely applied to the vagina and/or private area. On top of its healing and moisturizing properties, this collection comes in various scents. These scents provide a fruitful aroma, as well as a delicious taste. Check out the main benefits and ingredients in this jelli. Check it out, you will love it!
Maintains pH levels
Natural Moisture and Manages Private Area Dryness
Calms Skin
Essential Oil Healing Benefits
Reduce Symptoms of Infections
Control Excess Oils

Aloe Vera Gel
Reduce symptoms of vaginal infections
Provides natural moisture
Soothes dry, flaky and inflamed skin
Reduce itching and burning
Reduces scarring

Sea Moss Gel
Manages vaginal dryness
Antifungal, antibacterial, antiviral and anti-inflammatory properties
Grapefruit Essential Oil
Maintains smooth skin
Protect and strengthen the epidermis
Nourishes skin cells

Grapefruit Essential Oil (Food Grade)
Natural Antioxidant Properties, Rich in Vitamin C
Bacteria Fighting
Maintains Smooth Looking Skin

Honey
Hydrates and Moisturizes Skin Cells
Lightens Signs of Premature Aging
Lighten Scars and Hyperpigmentation
Natural Antibacterial Properties
Aloe barbadensis miller (Aloe Vera) Gel, Chondrus crispus (Sea Moss) Gel, Citrus paradisi (Grapefruit) Essential Oil, Apis (Honey), Natural Flavoring
1. Place a small amount on hand and leave on for 24-48 hours. Check for any irritations, scarring, redness, etc. Please continue to the following directions if no side effects are shown or felt. 
2.Wash hands thoroughly with soap and water. Pat dry.
3. Open jar. 
4. Place the desired amount into your hands and rub together.
5. Place products on and around the vaginal area and rub in. The product has been formulated to meet a pH friendly environment. 
6. Use as needed. Max usage 3-4 times per week. Making sure the vaginal area refreshes itself.
7. Enjoy, Please leave a review on your experience :)
1. This product has not been tested by the Federal and Drug Administration.
2. Please read ingredients to check for personal allergies and causes of concern.  Check 48 hours before using it to study for potential allergies.
3. Please keep out of reach of children. Place in high areas, out of reach of children, and pets. 
4. Please consult with a physician before using this product. 
5. Personal Care Nourishment is not responsible for any adverse effects while this product is used before, during and after use.
6.This product will not protect and prevent infectious diseases. It is not to be used to fully treat infectious diseases and viruses. The product is not advertising to promote any curing, medical curing, and diagnoses of any diseases.
WHY PC NOURISHMENT